Post by jane on Oct 4, 2014 19:05:47 GMT 9
[TRANS] SEVENTEEN magazine - GOT7 exclusive interview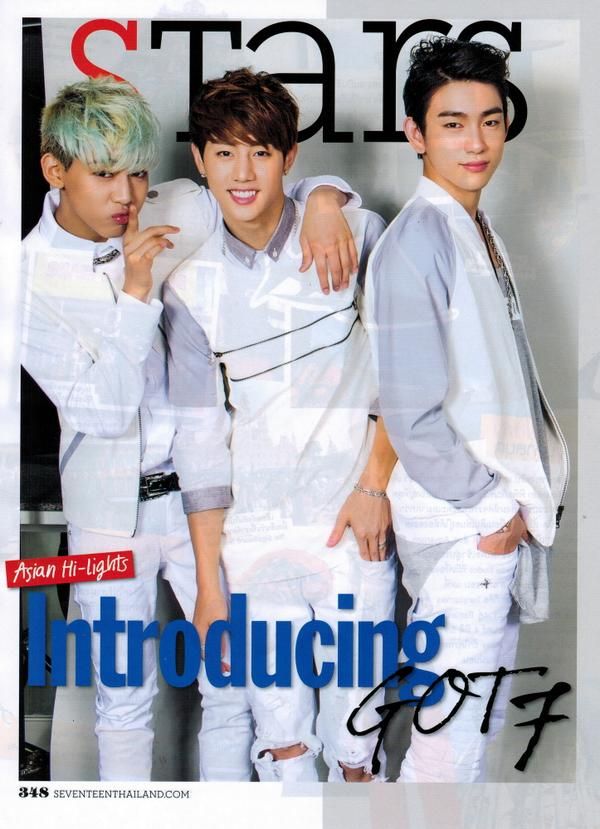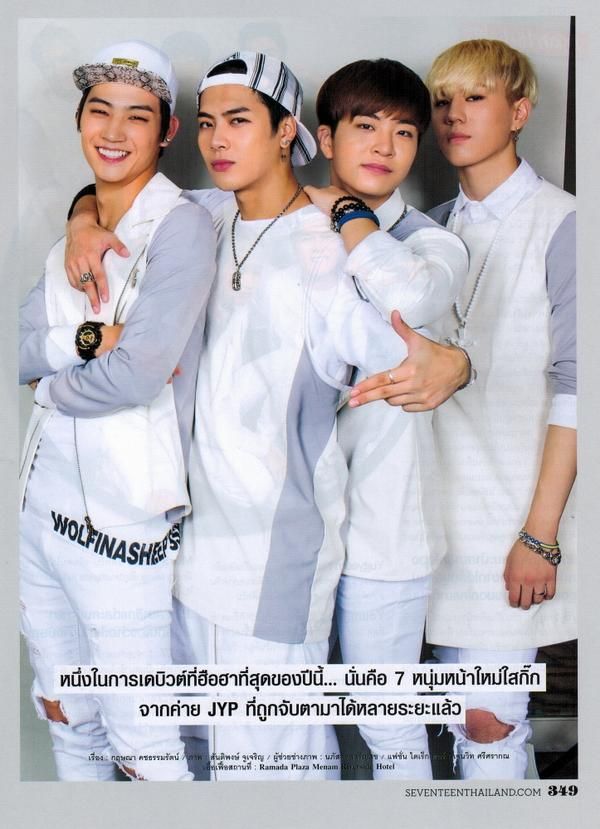 *please click for bigger size*
First, JYP hasn't debuted a boy band for ages after 2pm and 2AM. JJ Project is not included because it's considered as a temporary project. Second, there is Bambam, a Thai boy in this group, who has spent years of his youth and been trained with JYP. Third, apart from Bambam, there are two more foreign members in the group. Mark and Jackson are Chinese. So the three foreign members plus two awesome Korean members from JJ project, Jr. and JB, combine with confused yet still adorable member Youngjae and the giant Maknae Yugyeom equal 7 adorable guys you will fall in love with.
GOT7 and 2PM share some similarities. Both groups attract the fans by powerful dance moves with the addition of martial art tricking and showing some abs or skin is also included. After GOT7's Korean comeback, these 7 boys flew all the way to Thailand for their first time visit as GOT7. Even it's their first time, they received unexpectedly massive attention from Thai fans everywhere they went. The fans went crazy for them in Tofu Music Festival and their press conference at Paragon Mall. Bambam even raised up a question about their popularity in Thailand.
Bambam: "Are we already famous?"
Well, Bambam, you guys made Paragon's Infinity Hall full with fans as soon as it opened. Their popularity has skyrocketed in such short period of time therefore how could Seventeen miss the exclusive interview with the boys, right?
17: Please introduce yourself exclusively. We want detail that's never been revealed before.
JB:
I'm JB. I'm the leader and main vocalist. I'm a perfectionist. I'm always well-prepared and ready for anything anytime. (LOL)
Jr.:
I'm Jr. I'm both vocalist and rapper. I'm an easygoing person. I just chill and keep things low-key.
Jackson:
I'm also a rapper. I'm a funny person and also a vitamin for the team. If the team is down, I'll be all active and alert just to cheer everyone up. (Members laugh.)
Yugyeom:
My name is Yugyeom. Even though I'm a Maknae but every member treats me equally as a friend. I'm personally an optimistic person.
Youngjae:
I'm Youngjae. Normally I'm the last one to wake up. Members have to separate me from the bed. (Members laugh.) But I dress up the fastest and today in Thailand I was the first member to wake up.
Bambam:
This is Bambam. I'm a Thai member. I'm 17 and addicted to Internet. I always check fans' messages from IG at night. (LOL) One more thing, I stay up late at night but I'm an early bird.
Mark:
I'm Mark. I'm a man with few words but I can be fun when it's time to have fun.
17: Your nickname?GOT7:
(Everybody is talking eagerly.) We have nickname for ourselves as family members. JB is daddy because he's the leader. Jr. is mommy who always takes care of other members. He cares about small details like our meals. Jackson is an uncle who builds the positive atmosphere in the family and plays with his nephews/nieces. And Youngjae is an uncle's son. Yugyeom is surely a Maknae. Mark is the oldest brother because he's the oldest member and stay focus on whatever he does. Bambam is a daughter. He's cute and adorable. (But Bambam interrupted that he's male. LOL)
17: The meaning of GOT7?Bambam:
GOT7 is a group of 7 lucky boys.
17: Pls tell us more about 3 foreign members. How come IGOT7s call you Amerikongthai? Jackson:
I'm from Hong Kong. I passed the audition. That's why I became a JYP trainee.
Mark:
I'm American born Chinese. I passed the audition and became a trainee, too.
Bambam:
I once took part in a commercial in Thailand and JYP saw it. They called me to audition and that's how I became a trainee.
17: I've heard that Bambam was not able to speak Korean and he knew a bit of English at first. How did you adapt yourself? Bambam:
In the beginning when I was going back and forth between Korea and Thailand, I couldn't adapt well and got angry with myself sometimes because of this. But when I finally stayed in Korea, it just happened. There were foreign trainees like Mark and Jackson, too. So we spent fun time together and we started communicating in English first. That's how I started and I was lucky enough that my Korean teacher could speak English. Then things got easier. Korean and English became my languages in everyday life. (Members quickly raise their hands and say that it's them who helped Bambam.) About being the only Thai in the group, I'm fine with it. No pressure because I have Nickhun helping me all the time.
17: Other foreign members had also gone through some adaption? Jackson:
There's not much difference in culture. But I didn't quite understand the whole age counting thing at first. And the birth year counting too that is different from Hong Kong.
17: Who is the big brother of this group who always take care the rest?GOT7:
It depends on each situation. Mark and Yugyeom in the morning, then JB and Jr. who take care all the stuffs, Jackson who always create a good atmosphere while Bambam responsible for food.
Bambam:
When I cook noodles or fried eggs, I usually invite them to eat, and yes, we eat together every time.
17: How is GOT7's dormitory life?GOT7:
Very enjoyable *saying it in unison*
Bambam:
Our neighbors often warn us that we're loud. *laughing*
Jr.:
It's because we always enjoy singing, dancing, rapping and watching movies. We never have that time of tranquility. *LOL*
17: Could you tell us how you practiced before becoming members of the group?
JB:
First we were trained separately, for example, singing, dancing, and rapping, something like that. When we teamed up to do activities together, we started to practice in a team. We're trained 12 hours a day, from 9 am to 10 pm. It's not that we always practice, we also take a rest and eat.
17: Do you still have to practice very hard nowadays?JB:
Not that much, but if we're free, we have to go practice.
17: Which one is more complicated, singing or dancing?Jackson:
We don't take it a hard thing. We see it as a challenge (Good answer – GOT7 laughing that JS answered seriously till he got praised)
17: Talking about JB, you composed 'Bad Behavior' lyrics also, where did you get your inspiration?JB:
I put everything in my mind altogether to this lyrics. To write the song, I imagined what I would if I faced this kind of situation even though some of them has never happened to me before.
17: Youngjae, you also compose the song, right?Youngjae:
Mostly Ballad songs. You guys might have heard a song called 'Raining.'
17: Who is your idol?Yugyeom:
I like Chris Brown. He's very chic and cool.
Youngjae:
G Unit, I like hiphop.
Bambam:
I like J Jetrin. He's a legend. Not only hiphop, he can also do everything.
Jr.:
JYP (Jackson teases him 'good answer' – they all have good sense of hurmor) He has been in this work field for more than 20 years, and his works he created always have progress and development.
Mark:
2PM (GOT7 teases 'good answer' – laughing)
17: Your highest goals?JB:
I wish to have my own World Tour.
Jr.:
I wish my song ranked no.1 in all the music charts.
Mark:
I wish our group staying as long as possible.
17: How do you feel for the 1st concert in Thailand?Yugyeom:
It was an honor. I'm really glad to be here and very thankful to be invited.
17: Did you prepare the show extraordinarily?Bambam:
We practiced harder than other shows. And before that, we're also just back from Japan, we rehearsed it overnight.
17: Which point is the one that make you most excited/nervous to have a concert abroad?
GOT7
: Language. We're afraid that we cannot communicate because everywhere we go, new fans we meet. We will never know what they think about us. The difference between cultures is also one point. We might think that we can act freely but people at that country may think it's not appropriate.
Jackson:
It's one of our challenges. (And everybody just …um…good answer *laughing*)
17: If you had a chance to choose whichever place in the world, where would you like to go to do a live performance, and why?
Jr.:
Hong Kong, Thailand, LA, Korea, going to each province that is our hometown.
17: Before you came to Thailand, what did you ask about us from BamBam, and what did Bambam said?
GOT7:
We asked him if we were famous here. *LOL*
Bambam:
I suggested them good food, and also taught them some Thai cute and catch phrases *laughing* for example…
Jr.:
Yah mano (Stop dreaming!)
Yugyeom:
Love you, kiss kiss.
Jackson:
Do you have beans? *laughing* << Thai joke

17: What's your next project after this that we should go crazy on?JB:
Now we just finished promoting our second album in Korea. From now on we will prepare for our new album. We will have a tour in Japan, and definitely, we will try to come back to Thailand as soon as possible.

17: What do you think when you hear about number 17?Jackson:
Teenage.
Mark:
Number 10 plus GOT7! (Good answer! – GOT7)
Bambam and Yugyeom:
'We,' both 17. Eh…or Sawanchansibjet (seventeenth heaven)? *laughing*
GOT7 and 17 seem to have something in common. So if you guys love GOT7, don't forget to give some love to 17 also, yay!
thank you:
aimchowder (scanned pic) & kissdatbam
jaebumgasm & janejanedaniela @kissdatbam (TH-EN trans)

please take out with full credits.